Frequently Asked Questions
 left to order your August box!! 
What is myBURGERbox and how does it work?
myBURGERbox is a monthly gourmet burger recipe kit service. We deliver a number of items each month to help you create a gourmet burger in the comfort of your own home. As well as the burger, you will also receive a variety of snacks to help create a taste sensation. We focus on local produce and quality ingredients from exclusively sourced UK companies.
You can choose a box for one or two people. We offer a monthly subscription or one-off box purchases. We also have myGIFTbox options for the perfect gift for loved ones.
Thursday/Friday 29th/30th July 2021
Thursday/Friday 19th/20th August 2021
Thursday/Friday 23rd/24th September 2021
Thursday/Friday 28th/29th October 2021
Thursday/Friday 25th/26th November 2021
Thursday/Friday 16th/17th December 2021
Your BURGERbox will be shipped on a Wednesday to arrive on Thursday, ready to enjoy as your start to the weekend. Some boxes maybe arrive on the Friday, depending on the courier.
An email reminder will be sent when your box has been shipped.
For all other non BURGERbox products these will be shipped within 3 working days of your order being received.
No. The delivery charge is included in the price for all our products. FREE delivery to the UK.
At present, we can only accept orders from the UK.
No. All pricing on our website and at the checkout page includes any applicable taxes.
How do I know if my Order went through?
You will receive and email confirmation of your order including any additional requests.
What if I'm out when my box is delivered?
If you're not at home, we instruct the courier that your box(es) be left either in a safe place or with your neighbour. It may be worth leaving the courier a note indicating your 'safe place'. Unfortunately we have no control over whether the courier will leave your delivery out for you. The courier company may contact you prior to delivery asking you to update your delivery preferences.
myBURGERbox cannot accept any responsibility for deliveries that go missing after dispatch or where the courier leaves an undelivered parcel card and these aren't collected.
Do I have to eat my burger as soon as it arrives?
No, although you may want to. We use chilled packaging, which will keep your goods at the right temperature for up to 48 hours.
When you unpack your box, simply refrigerate as normal. For best results consume with 24 hours and condiments should be shaken before use.
Can I purchase myBURGERbox as a gift?
Yes. What a fantastic idea!
You can buy a Gift Box on our Shop page & your voucher will be emailed to you. Just print it off or forward to the lucky recipient. The recipient can either redeem their voucher at checkout or email us.
Alternatively, you can order myBURGERbox & we'll send it to them, as a surprise. Please comment in notes at checkout if it is a surprise and/or gift.
What if I have a special diet?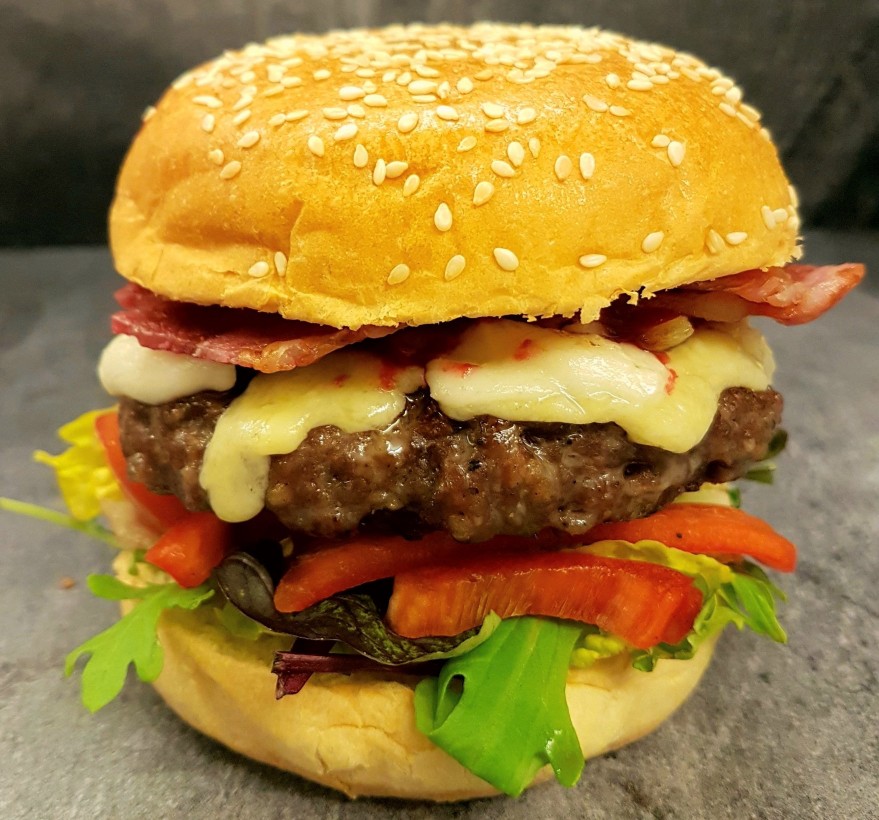 (Vegetarian, Gluten-free, Allergies, etc.)
Although we try to cater to everyone, unfortunately this is not always possible. At present we are not able to consistently provide Gluten-free products, however these will be clearly labelled when included. Please share with us any British products which you recommend.
Drop us a tweet or email to tell us what you'd like and hopefully we'll see you soon!
If you have a special request, please get in touch in the comments section on the checkout page or email us.
If your question isn't answered here, email us: hello@myburgerbox.co.uk